The Mekong Delta – Where the Magic Happens
The main reason why I am in South-East Asia is because I did not like the idea of me writing a thesis on shrimp farming, without ever having seen a shrimp farm. In Vietnam, about 80 percent of the shrimp farms are located in the South. There are some shrimp farms in the centre and the North of the country, but most of the farms that aim to export to the US or Europe are based in the Mekong delta.
Can Tho is the biggest city in the Mekong delta. It is the third city of Vietnam and has about 1.2 million inhabitants (it is thus bigger than Amsterdam). The city is not that touristy, the tourists that visit the Mekong delta mostly do so as a day trip from Ho Chi Minh City. My Vietnamese friends advised me to visit the floating market in the delta, so I therefore decided to spend a weekend here before I started visiting farms.
My hotel was a small family-owned hotel a bit outside of the city and right next to the river. I believe that most of the time I was the only guest in the hotel. It was a great environment: it was nice and quiet. The temperature was much more comfortable than in Hanoi: it was only 35 degrees in Can Tho instead of the 40 degrees in Hanoi.
The Mekong delta has loads of fish and fruits. When I visited the floating market on a small boat with a grandmother and her 7-year old grandson, I saw how much fruit is grown and traded in this area. The kid was also my tour guide and our conversations mostly consisted of sentences as: 'Hello! Pineapple!' or 'Hello! Jackfruit'. We also walked around a bit, which mainly involved me carrying him so he could pick some fruits from trees.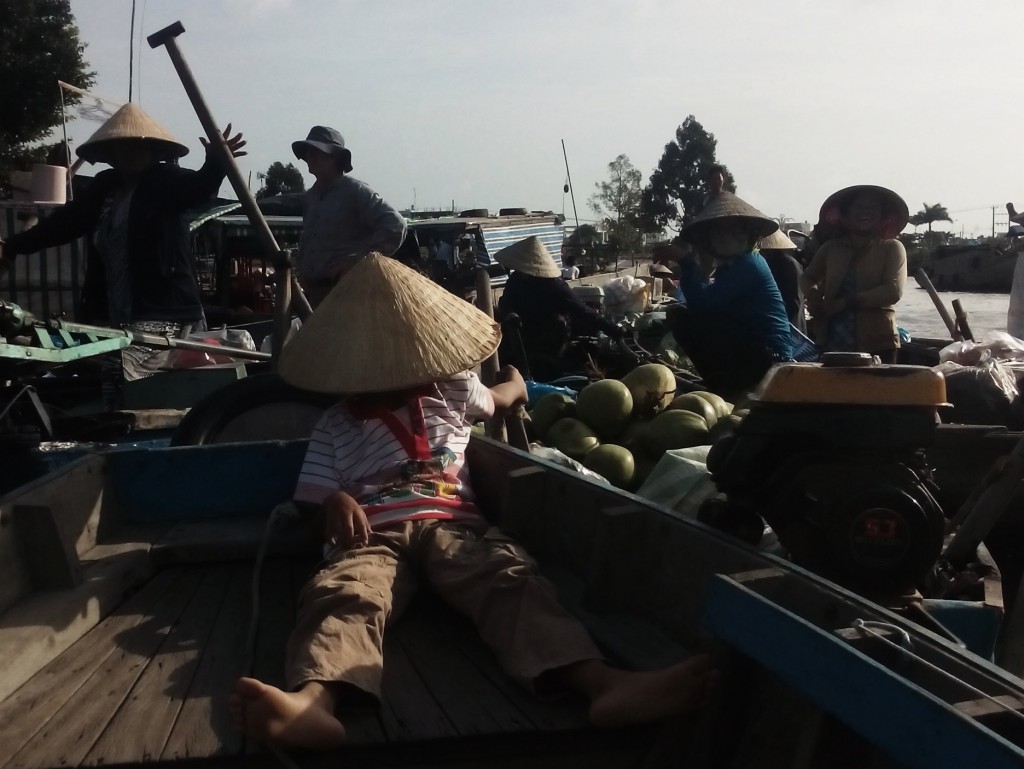 So after a weekend of peaceful and quiet fruity times, my workweek started fishy. Mr. Lap, which is of a Vietnamese sustainable aquaculture NGO from Hanoi, came to show me around. He explained everything on shrimp, fish, food, the differences between the North, the Centre and the South of Vietnam. He also made me eat all these delicious dishes. I had so much amazing food in Can Tho!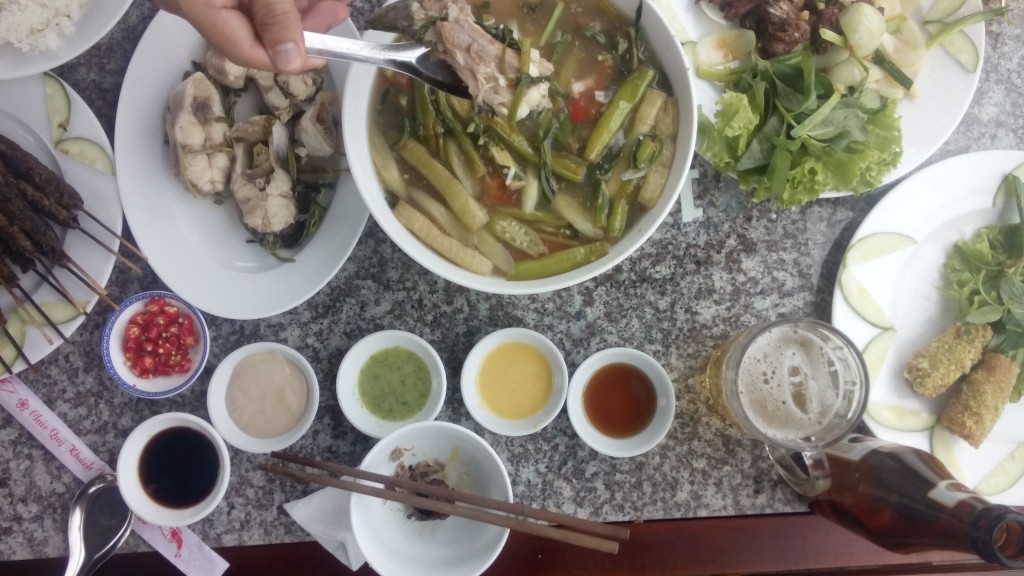 Later that day, we visited the WWF office in Can Tho. WWF has, among other, several projects to get farmers in the region ASC certified. After a long interview over coffee we went for some food and beers in a seafood restaurant. I again overate. And I was in great company. After I finished eating they said: 'You have proven that you can eat everything, but here in the South, everything can also be eaten'. Wise words from wise men. After dinner they even took me for Karaoke. I was happy to have practiced my Westlife repertoire. What more do you want: great food, great company, some beers, and then Karaoke!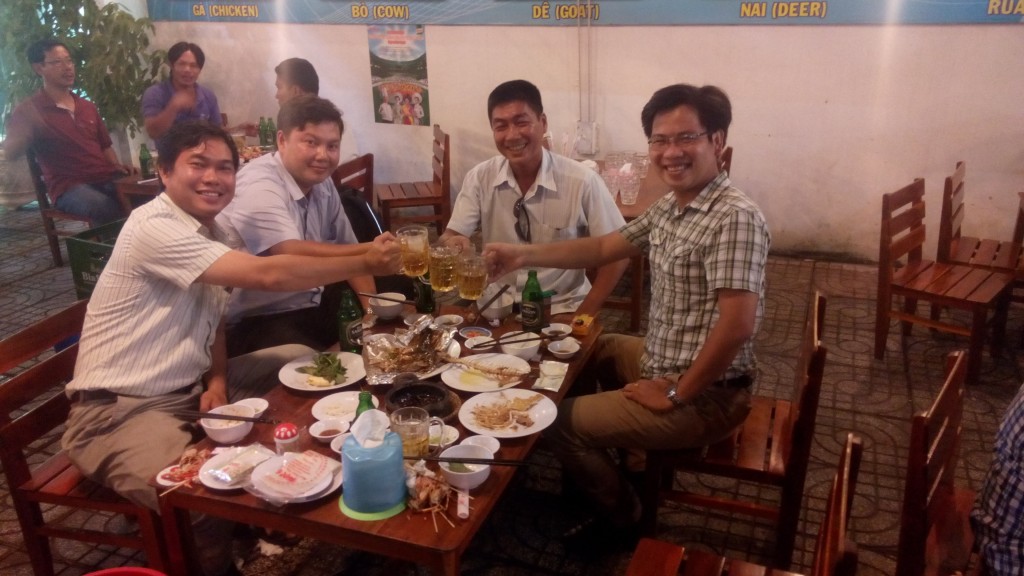 The day after we visited some farms. Mr. Lap came along and he translated my interviews. A Vietnamese consultant who is also involved in the certification joined too. I visited two farms, one large scale company (160 hectares!) and a small scale farm. The small scale farmer is part of a group cooperative that is aiming for group certification. It was nice to see the difference. Having to put on white boots on the large-scale farm, probably only seeing the pond they wanted me to see, and then seeing the small scale farm which we crossed barefooted and where the farmer was telling us about his business while having his grandchild on his arm.
At the moment there are almost no smallholders that are certified by ASC, only larger companies have, until now, succeeded in getting certified. This is despite the fact that the ASC standard has a lot of requirements especially made for smallholders. The reasons why it is difficult to get certified as a small scale farmer is because the standard is highly technical, so you should have a certain form of expertise, and because the costs are quite high. You have to hire consultants to do assessments, and hire auditors to assess if you comply with the rules. There are currently guidelines being developed for smallholder farmers to, as a group, certify together so you can share the costs of certification.
Another aquaculture standard already has group certification. One Vietnamese farm that got certified was supported by a project that provided the technical expertise and paid for the audit and consultant costs. But the project came to an end. The group was certified, but after the project ended, they could not pay for the upcoming technical staff and audits that need to take place every year. So: end of certification.
The smallholder farmer whom we visited answered to my question why he wanted to become ASC certified that he could take part in this WWF-led project which gave him technical expertise and workshops. It is all wonderful, but it seems as if smallholder farmers are only able to become certified if they get supported by NGOs. And some of the NGOs that were also involved in making the standards are now having all these projects. So in a way they made themselves necessary in the aquaculture business.
I wonder, just as a thought experiment, if smallholder farmers should be ASC certified at all. Firstly, the demand for ASC can be satisfied by large scale companies only. This is mainly because there is not so much market demand for ASC (yet). Secondly, the big companies have a larger impact on the environment and the surrounding communities, so if you improve their practices, a larger part of the industry will be more responsible.
So what if you would exclude the smallholder farmer from certification (which is happening now)? If she or he is excluded from the highly certified European market, it would mean that you consume your shrimp from this big shrimp companies only (as you are doing now). If all these companies would be ASC certified, so this would mean that there are no mangrove forests cut, no antibiotics are used, there are no slaves involved, and the neighbouring communities are able to complaint etc. Would you as a consumer be happy when you eat that shrimp? Or would you also necessarily want to eat your shrimp from a smallholder farmer. In other words, is this idea of consuming from smallholders not also a very romantic idea of small farmers, that we find them 'cute' and we can patronize and protect them, because we just think that small is beautiful? Aren't we just being a bit too romantic about this stuff?
Personally, when I was visiting this smallholder farmer I could not keep myself from thinking: I want to eat your shrimp, old man, I want to support you. Or is this just my small-is-beautiful-upbringing? I just wonder what the consequences are of having only large-scale companies exporting to Europe and excluding smallholders from the European market. Is this sustainable, economically and socially?
Some smallholders have a pretty climate-smart system of shrimp farmers. During the flood season they will let the river fill up their ponds with fresh water and they will farm rice. In the dry season they use salty water and then they produce shrimp. The smallholder farmer we visited has a deep pond, so he has one season of catfish and one season of shrimp (you need a shallow pond for rice). It is also a nice way to spread risks, because the shrimp business is a pretty risky business (one of the reasons is the likelihood of decease outbreaks). But if you have a good harvest, you are pretty rich. This shrimp-rice system can however not be ASC certified because of salinisation levels. I find this a bit harsh, because it seems pretty sustainable to me. And even worse, because the price of shrimp has gone down now, some farmers stopped producing shrimp. If they will get certified and have a better price for their product (although ASC has no price guarantee, so probably there will be not a much better price) they might stop producing rice instead, but just produce shrimp for exports. If this would be the case (which I am not sure it would) that would be a rather unsustainable side-effect of a responsible shrimp standard. I wonder if this system can be and should be included in the ASC certification.
So again, a lot of things to think about. I am very happy to have seen an actual farm, and to see some shrimp that are alive for a change. They are quite jumpy.
In sum: my time in Can Tho was really nice. I rented a motorbike and drove to my interviews at the University, ate a lot of street food (which is insanely good and cheap) and worked a bit on transcriptions. I am thus integrating pretty well here! From Can Tho it goes to Dalat, a city in the mountains that is supposed to be cool and beautiful.
---
Lisa van Wageningen is a Master's student in International Development Studies at Wageningen University. She has a Bachelor's Degree in International Relations as well as in Religion Studies.For her Master's Thesis she researches the WWF-led Shrimp Aquaculture Dialogue, a multi-stakeholder initiative that led to the standards now owned by the Aquaculture Stewardship Council (ASC). The ASC standard is a Third-Party Certification scheme that is considered to be market-driven. The thesis focuses on principle two and three of the standard that concern both the environmental and social impacts of the site of the shrimp farm. The thesis considers the standard to represent negotiated boundaries and looks at how these boundaries have been constructed as well as what the consequences of these boundaries are. For this research she has been in Southeast Asia and mainly looked at the Vietnamese context of shrimp farming.