Experimenting with focus groups
Posted on behalf of Mariska Bottema, PhD candidate at the Environmental Policy Group at Wageningen University and Research Centre.
I just completed research in my third field study site and would like to use this opportunity to reflect on some of my experiences with conducting focus groups, since this was the first time I have applied this method of data collection.
One of the two research objectives for this field visit is to study how area management arrangements constitute institutions for collective management of aquaculture, and in what way these respond to environmental risks. So far, I have studied three different examples of area management: semi-intensive shrimp farmer groups organised around a highly government-controlled irrigation system in Kung Kraben Bay, Chantaburi province, Thailand; a self-organised tilapia club in Panthong district, Chonburi province, Thailand; and most recently group-certified integrated mangrove shrimp farmer groups in Kien Vang Forest in Ngoc Hien, Ca Mau, Vietnam. In my final case I will study the Hainan Tilapia Sustainability Alliance, an aquaculture improvement project applying a form of zonal management, in Hainan, China.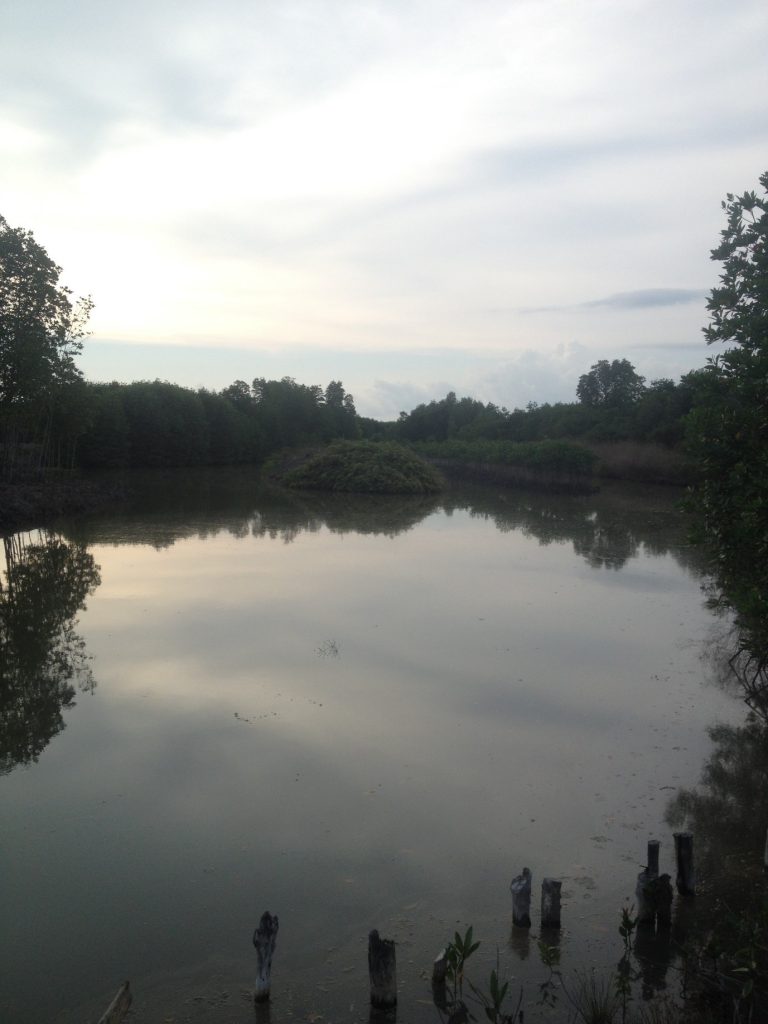 Integrated mangrove shrimp farm in Rach Goc town, Ngoc Hien district, Ca Mau province
My aim is to learn how farmers are organized into networks, how these arrangements are institutionalised, and in what way these arrangements respond to individual and shared environmental risks. Most of the data collection is carried out through in-depth interviews with farmer group leaders, local government officers, NGOs, universities and value chain actors involved in these collective arrangements. However, I felt it was essential to triangulate these findings by determining how farmers in these arrangements perceive and interpret the institutions formed around shared risks like water pollution and disease, and chose to do this through conducting one focus group with farmers at each study site.
During these focus groups I start with asking a number of general questions to get an impression of how the group of farmers is organised and their relation to each other. I then present them with a number of scenarios and ask them how they would respond in different situations. Through their reactions to these scenarios I get a picture of how they perceive the rules and sanctions formed around common environmental risks. I have no prior experience with applying this methodology, nor had my research assistants in both Thailand and Vietnam. Trying to gain a good picture of how farmers interpret rules formed around common environmental risks, in a foreign language, in little over an hour, seemed like quite a challenge. Needless to say, we were a little nervous going in.
The experiences have been varied, the most recent one the most challenging. The focus group in Kung Kraben Bay was with a group of five group certified farmers, all direct neighbours and relatives. We had already spent a lot of time in their area since we interviewed a number of these farmers for another research paper I am working on. We nicknamed them "the gang", because during the individual farm interviews we conducted for my other research paper, a relative of the respondent we were interviewing would always sit down, join in, and by the end of the afternoon there were usually a group of farmers involved in the conversation. Getting the group to interact during the focus group with them did not require a lot of effort, since they knew us and each other. We concluded the session with a clear impression of the way these farmers perceive government regulations around use of the irrigation system and mangrove forests adjacent to their farms, the informal rules they have regarding communication about disease, as well as common rules in their group certification scheme.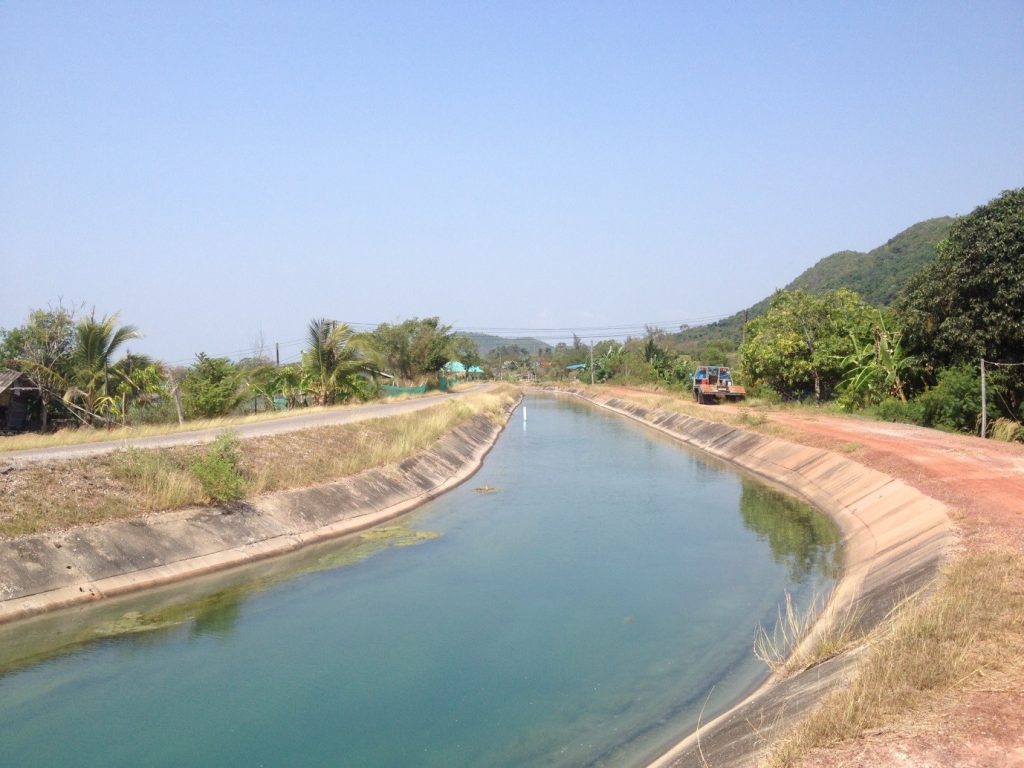 Shared irrigation canal in Kung Kraben Bay, Chantaburi province, Thailand
The second focus group was with a group of seven Thai GAP certified tilapia farmers from three different villages in Panthong district. These farmers formed an informal tilapia club several years ago in order to improve the quality of their product to be able to export it, and to gain more bargaining power for water supply in times of drought. This self-organized group was very interesting to watch during the discussions. After the focus group, Fon, my research assistant, and I reflected that from the way the individual members of the group reacted to questions and to one another, you could tell that each member in the group had their own role and responsibility within the group, they knew each other very well and everyone had a clear idea of why they were working together. Similar to the focus group in Kung Kraben, it took little effort to get responses from the participants and the discussion needed limited facilitation from us. We gained a clear picture of the main initial reasons the group had formed, what informal rules members of the club need to adhere to, and how members collectively react to problems such as drought.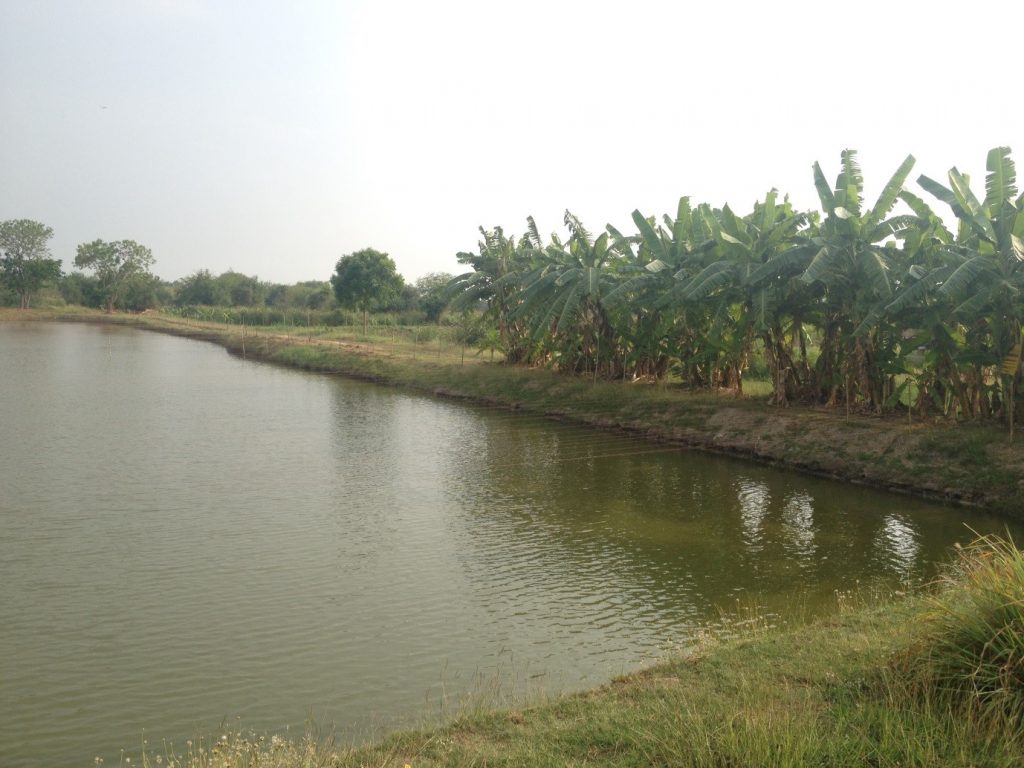 Tilapia farm in Panthong district, Chonburi, Thailand
The most recent focus group in Rach Goc commune, Ngoc Hien, was a lot more challenging. We did not have a say in choosing the participants because it was very difficult to get a group of farmers together. The participants were all Selva group certified integrated mangrove shrimp farmers, but came from three different areas. We knew one of the participants from prior individual farm interviews, but we were not familiar with the rest of the participants. We started with some general questions about the groups they were assigned to when they became Selva certified but it was very difficult to induce reactions, let alone a discussion. I considered cutting it short as I did not foresee the atmosphere changing and I could see that Nhu, my research assistant, felt the same. However, we then presented them with a scenario in which we asked them what they would do if an industrial shrimp farmer near them was releasing water whilst they desperately needed to intake water due to an extended period of high temperature for example. Faces instantly lit up and everyone had something to say. From that point onwards there was no more need for prompting responses and respondents continued discussing with each other long after we posed scenarios. We gained a picture of local regulations around mangrove forest and water management, common rules for Selva certified farms, informal rules around disease management, and about the main challenges they all share with regard to waste management.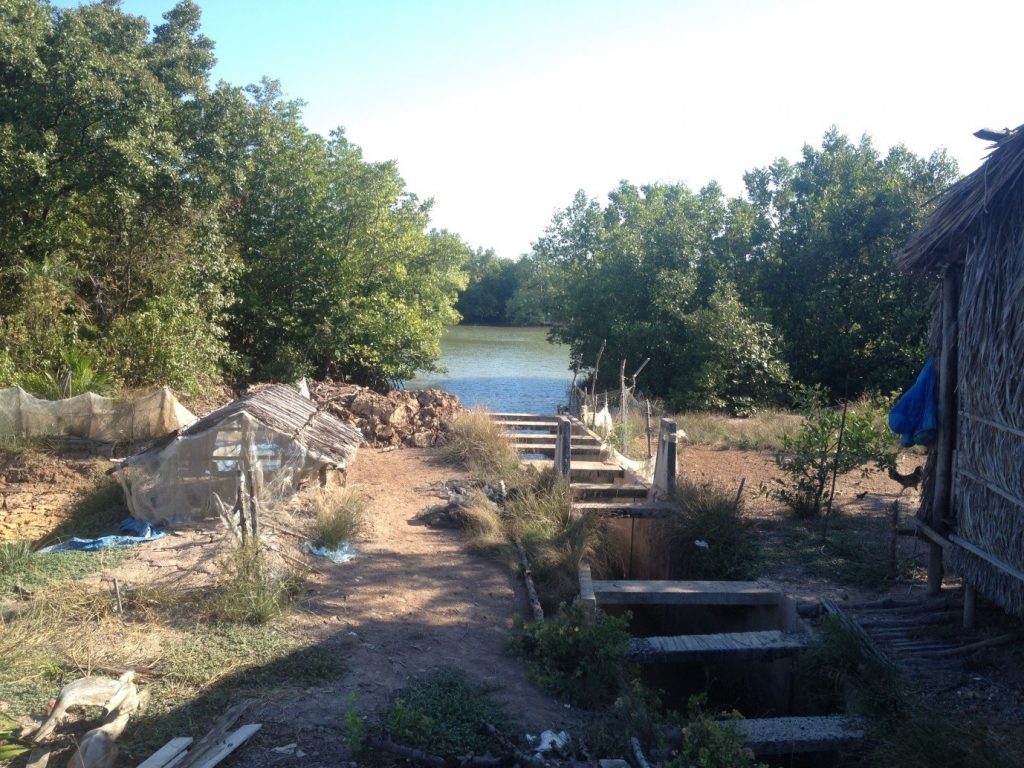 Sluice gate in integrated mangrove shrimp farm in Tan An commune, Ngoc Hien district, Ca Mau province
The main lesson regarding focus groups which I can take away from these experiences at this point is that for the discussion to be fruitful it is not enough to prepare good questions and topics. You need to find a way to get respondents animated. In terms of content the question about the industrial shrimp farmers in the third focus group was not of much value to me, since the main goal of the focus group was not to hear about the main environmental challenges which the farmers face, but this topic is what got the farmers talking to each other. One of the key environmental problems which farmers had told us about repeatedly in previous individual farm interviews was the issue of water pollution resulting from untreated waste water disposal by industrial shrimp farmers. We knew this was an issue they feel very strongly about and we should, in fact, have started off with this scenario.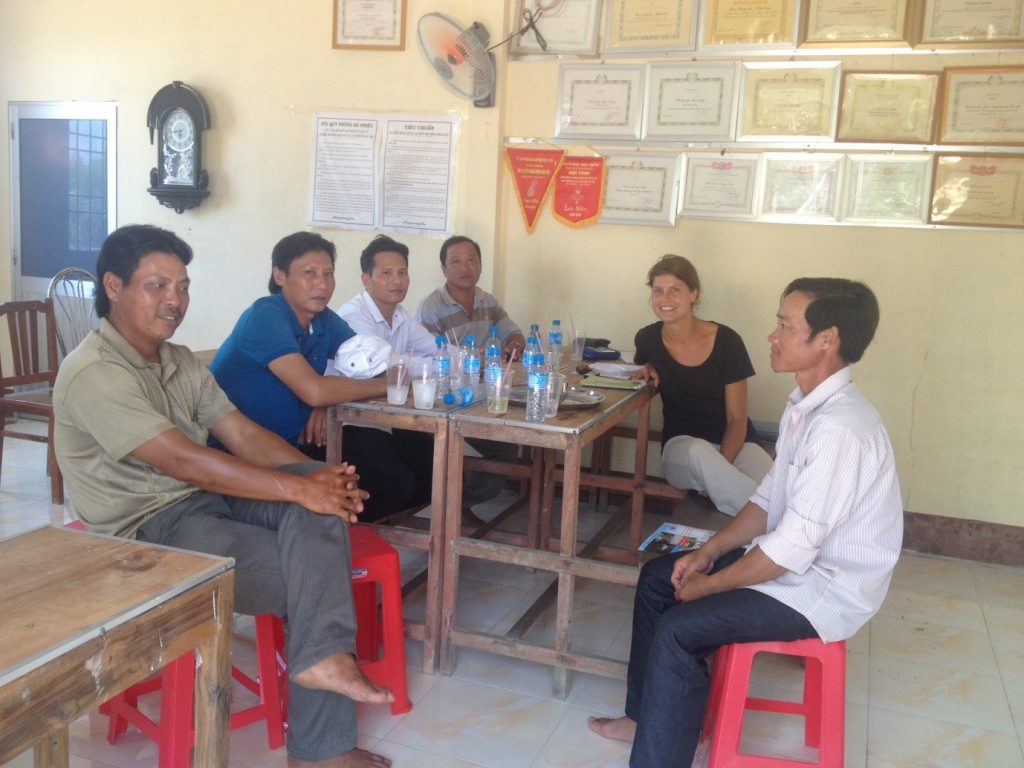 Focus group in Rach Goc town
We were faced with two very close-knit groups for our first two focus groups, which did not require breaking the ice at all. However, we had less influence in terms of sampling participants for the third focus group, and as a result worked with a group of people that did not all know each other very well. Inducing conversation by bringing up a risk they shared and all felt very strongly about is what got them talking. Much like preparing for a presentation, I think knowing your audience and starting with something which gets everyone enthusiastic is the key to a dynamic discussion. I look forward to trying this out next week in the final focus group which I will conduct during my field research, with tilapia farmers in Hainan, China.