Investigating the Impacts of Fisheries Reform in Songkhla, Thailand
Olivia Tran – Master's student at the University of Ottawa, Canada
Songkhla port was quiet.  The afternoon air smelled strongly of fish and salt, a comforting smell for anyone who has worked in fisheries.  Once every block, you might see a family, some resting fish porters, or a few people cleaning and icing fish, but it was largely empty. While the port fish market was open 24/7, no new boats had arrived with catches and people were at work, either at sea or at factories.  Still, thanks to our intrepid friends and Thai translators Ear and Rake, we managed to strike up conversation with a number of friendly workers while conducting our field research at Songkhla port.
Walking around the port
Yavanna and I had flown to Songhkla, a port town a few hours south of Krabi and Phuket, from Bangkok to conduct our field research on migrant work exploitation and illegal, unreported, and unregulated (IUU) fishing.  The issue has been a media sore spot for Thailand and its reputation as a leading seafood exporter ever since journalist investigations revealed that some Thai-sourced seafood sold in developing countries was linked to the 'slave labour' of migrant fishers. Threats of sanctions from the European Union's yellow card were soon issued, accompanied by a Tier 3 rating (also known as the worst possible ranking) from the US Trafficking in Persons (TiP) report (Marschke and Vandergeest, 2016).   Many companies also took a stand with the rapid establishment of private sector partnerships with migrant worker NGOs and coalitions like the Shrimp Sustainable Supply Chain Taskforce vowing to clean up seafood supply chains.
With the very real possibility of trade disruptions, Thailand raced to implement policies and regulations to curb IUU and labour abuses.  In 2015, the government embarked on a comprehensive fisheries reform which included the enactment of the Royal Ordinance on Fisheries law, the adoption of the Marine Fisheries Management Plan, the approval of the National Plan of Action to Prevent, Deter, and Eliminate IUU fishing, and the establishment of the Command Center for Combating Illegal Fishing (Royal Thai Embassy, 2015).  Following these changes, the US upgraded Thailand to Tier 2 in its 2016 TiP report (Bangkok Post, 2016).
After months of interviewing various large and small organizations in Bangkok on the impacts the media and policy changes have had on their work and in the field, we had finally arrived in Songkhla to get the perspective of local organizations and fishers themselves.  It was a fascinating opportunity to learn about the implementation processes of the government policies.  No longer were they just policy ideas, but we spoke to the officials in charge of making them a reality and the challenges they faced.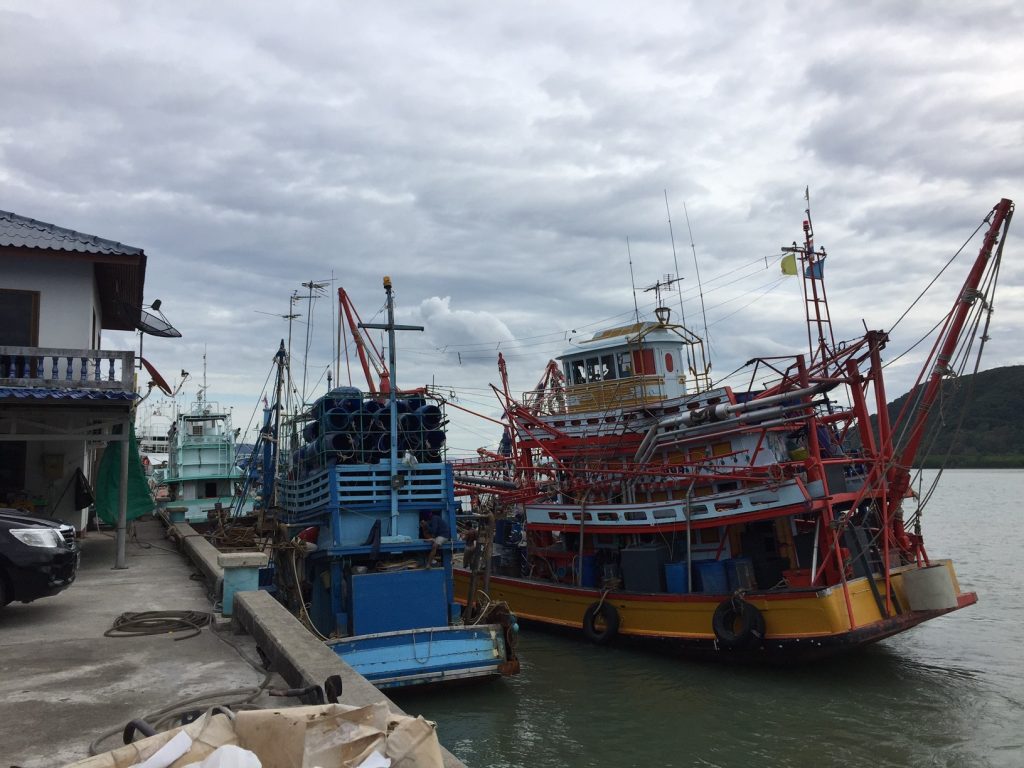 Vessels being checked by PIPO
At the port, it was difficult to find working fishers to interview.  They only return to shore once every few weeks or few months depending on their boat, and even then it may just be to deliver catches before heading back to sea.  They are only required by law to have rest days once every month or so.  This is why it is difficult for all organizations, not just us two Masters' students, to collect data from working fishers and one of the reasons why more research is sorely needed in this area. We saw many fishers on their boats working at the pier, but this was only temporarily while the Port In Port Out (PIPO) office was checking their vessel.  PIPO is a new government mandated process that aims to regulate IUU by requiring all vessels to check in and check out of ports.
Still, we were able to interview some former fishers who now worked on land, their families, Thai port workers, fish buyers, and boat owners.  This gave us a variety of perspectives and better understandings of the working of the port and fishing sector of Songkhla.  It is important to note that without the help of our research team at Prince of Songkhla University, we would not have been able to interview anyone. Since the topic of IUU and human trafficking is a sensitive, one particularly for government officials, our Thai colleagues told us that even for locals it would be difficult to get information.
Overall, both officials and port workers/residents that we interviewed saw the policy changes as positive.  It was better than what had existed previously –basically nothing. Thai seas had been like the Wild West; there were no rules, no oversight, and no safety mechanisms for those who needed it.  While some of the new mechanisms still need work, in the short amount of time since the IUU and migrant exploitation became known, significant progress has been made.  With existing organizations responding to the reform as well as new initiatives rapidly emerging, this is a timely moment to conduct this research and to better understand these shifts.  Thailand seems to be serious about improving its fisheries sector, with the policy landscape in fisheries looking significantly different than it did a few years ago.  However, questions remain as to whether these changes will be significant and long lasting.
Bibliography
Bangkok Post. (2016, June 29). US promotes Thailand out of Tier 3. Accessed July 4, 2016, from http://www.bangkokpost.com/news/politics/1022357/us-promotes-thailand-out-of-tier-3
Marschke, M., & Vandergeest, P. (2016). Slavery scandals: Unpacking labour challenges and policy responses within the off-shore fisheries sector. Marine Policy, 68, 39–46.
Royal Thai Embassy. (2016).  Thailand's fisheries reform: Progress and way forward in the fight aginst IUU fishing and forced labor. Royal Thai embassy in Rome, Italy.  Accessed on August 27, 2016 from http://www.thaiembassy.it/index.php/en/iuu/592-thailand-s-fisheries-reform-progress-and-way-forward-in-the-fight-aginst-iuu-fishing-and-forced-labor